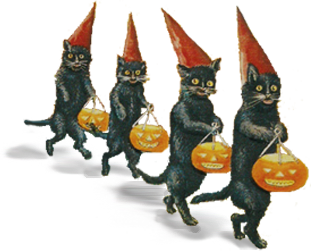 Welcome to Halloween Artist Bazaar!
Here collectors will find self-representing artist that create in the vein of nostalgic, whimsical, macabre and fantasy from across the country and around the world! Offerings from Halloween Artist Bazaar are hand made original works direct from the artist. The offerings are one of a kind or of limited release direct from Halloween Artist Bazaar artist members. Halloween Artist Bazaar is comprised of individual artist who sell their handcrafted wares through the Halloween Artist Bazaar catalog and through their own selling venues, shops and websites.
Our mission is to carry on the tradition of quality hand crafted, original, non commercial art available in the online market place for Halloween Collectors. We are gathered together as a collaboration to capture the spirit of Halloween through the imagery of our works. Halloween Artist Bazaar artist group promotes a positive image of Halloween and preserves the history and sincerity of the holiday through artistic creations.
If you are an artist interested in joining Halloween Artist Bazaar or a customer with an inquiry please emial us through our contact page.
All images are property of Halloween Artist Bazaar, it's perspective artist members, associates and affiliates. Halloween Artist Bazaar is trademarked. Any use of the Halloween Artist Bazaar name, logo, likeness or images or images of artist members work without expressed permission for commercial gain will be considered infringement.
Policies of Halloween Artist Bazaar
Halloween Artist Bazaar strives to provide excellence in the integrity of craftsmanship of the works available for sale through our catalog and to provide a satisfactory online shopping experience for our customers.
Payments
Halloween Artist Bazaar accepts payments via Paypal and credit card payments through Paypal. Customers do not have to have a Paypal account to safely and securely use a credit card for purchase from Halloween Artist Bazaar.
Shipping
Domestic shipping costs within the United States have been included in the pricing of items offered through Halloween Artist Bazaar. For our international customers a shipping cost will be calculated. *Please take note, your country's custom charges may apply upon delivery. Halloween Artist Bazaar is not responsible for those applicable custom and delivery charges. Items purchased through the Halloween Artist Bazaar catalog are shipped direct from the individual artist after payment has been received. Customers will be notified when their purchase has been sent and when available, tracking will be provided for your purchase once it has shipped.
Returns & Refunds
Although Halloween Artist Bazaar artist provides the highest quality hand made art, we understand that sometime things just happen. If for any reason you feel you need to return, refund or exchange an item please contact us and we will facilitate contact for the customer through the individual artist from whom the item was received from for action on the matter in accordance with that artist individual return policy.
*Halloween Artist Bazaar is held harmless and not responsible for disputes or claims that arise through communication and transactions through individual artist members.
Custom works
Should you like a custom creation from a Halloween Artist Bazaar member or if you are interested in a wholesale or distribution agreement with an artist member please contact us and we will have the artist to contact you directly.
*Halloween Artist Bazaar is not responsible for content, transactions or disputes that occur on external links visited from our website.*
Disputes
It is the policy of Halloween Artist Bazaar that our artist's submissions are of the utmost integrity as hand made original creations. Halloween Artist Bazaar requires that all submissions accepted for listing in the catalog be in accordance with of the listing agreements and policies of other outside selling venues that the artists may sell from. If you are a selling venue and you feel a listing found in our catalog is in breach of a selling agreement with one of the artist members, or you feel an item offered for sale through our catalog is in breach of copyright, trademark or patents you own please contact us so we are made aware of said issue and we will link you directly the the artist who is in question of breach.
Privacy – Use of Information
Information such as name, physical mailing address and email address are collected at time of transaction and if one signs up for an account with Halloween Artist Bazaar.
Halloween Artist Bazaar does not and will not sell, transfer or trade your information.
Information collected by Halloween Artist Bazaar is used to process and contact customers pertaining to their order transaction or communicate about a potential order. Halloween Artist Bazaar may on occasion use personal information such as email or physical mailing address to contact customers about special promotions, coupon events and sales via email and postal mailings.
When purchasing or filling out an online form from Halloween Artist Bazaar one is consenting to Halloween Artist Bazaar privacy policy.
Shop the Bazaar to enter the shopping catalog to find hand crafted original Halloween art.
Visit the Artist Page for a list of Halloween Artist Bazaar Artist. Each Artist page links to the various online selling venues and blogs for that artist.